Game of Thrones Season 2, Episode 7: A Man Without Honor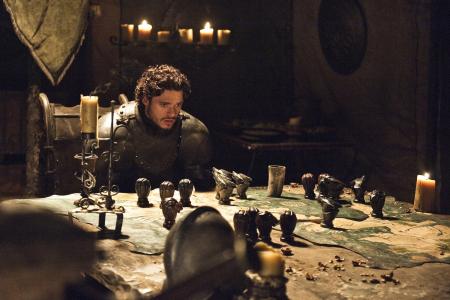 This episode of Game of Thrones is titled "A Man Without Honor."  Toward the end of the episode, Catelyn Stark uses that phrase to describe Jaime Lannister, the Kingslayer.  But really, it could apply to nearly every character that appears on-screen tonight, and even some that don't.  Certainly Theon Greyjoy, Xaro Xoan Daxos, Pyat Pree, the Clegane brothers, and Tywin Lannister all fit the bill.  But to paraphrase Sandor Clegane, many people will thank these honorless men for the horrific things they do.  In wars, someone has to do the dirty work, and as much as noble people like Robb Stark or Brienne of Tarth don't want to believe it, that is how wars are won.
If Game of Thrones in general and this episode in particular have taught us anything, it's that "honor" is subjective and not necessarily a valuable trait (at least not in a crapsack world like Westeros).  It's no coincidence that Jaime Lannister brings up Ned Stark, the man who defined himself by his unbreakable sense of honor, in his verbal sparring match with Catelyn.  The two are brought together after Jaime nearly escapes his cell at Robb Stark's basecamp.  Throughout the season, Robb has used Alton Lannister, one of Jaime's cousins as an envoy to King's Landing in an effort to broker peace. Now that Alton has returned, Robb sends him back to a cell, where he and Jaime bond a little bit.  Alton tells of his great respect for Jaime, and he is likely one of the few people in Westeros who is able to separate Jaime from the "Kingslayer" persona that everyone else gives him.  Jaime responds by telling of his time squiring for Ser Barristan Selmy, another highly respected warrior (who Cersei and Joffrey foolishly dismissed from the Kingsguard last year).  The sweet moment of bonding is brought to a disturbing end when Jaime savagely kills his cousin in order to create an opportunity for escape.  Jaime's only concern is for his own life, and anyone else's can be forfeited in order to ensure that his continues.  Not at all an honorable viewpoint, but in many ways a pragmatic one.  Furthermore, Jaime recognizes that "honor" is a bit of a fallacy.  When Cat angrily calls him "Kingslayer" and accuses him of breaking every vow he ever took, Jaime hisses back that Aerys was absolutely mad and repeatedly took the lives of innocent citizens, and further stated that sometimes vows will conflict, and there may be a higher moral calling than blindly following every oath you made.
Other Lannisters and Lannister bannermen have similar views on honor as Jaime.  The brothers Clegane are no stranger to dirty work, and Sandor proves that there's nothing so heroic that he can't undermine by providing a dishonorable means for doing so.  His response to Sansa's thanks for saving her last week are met with a gruff response that he only did it because he likes killing.  He sees his place in the world as nothing but a lackey who does the dirty work for those in power, and he accepts it because he enjoys the rush of combat.  He does what needs to be done so that kings needn't get their hands dirty, and he doesn't begrudge them for it.  He responds to Sansa's disgust by telling her that someday she'll thank him for his dark services, when she is queen and needs a rebellion quashed or a protestor silenced.  Meanwhile in Harrenhal, his brother Gregor is told by Lord Tywin to burn the villages of commoners loyal to the Starks and the Tullys.  Gregor reveals that a group of outlaws known as the Brotherhood Without Banners have been causing trouble for the Lannister forces and that many of the commoners have come to see them as noble figures.  Tywin knows that such thoughts undermine the government's power and that the group needs to be stopped, lest the Lannisters lose the war.  Killing civilians who support the other side or romanticize outlaws without themselves breaking any laws would most likely be classified as a war crime if such a thing existed in Westeros.  But Tywin would rather be feared than loved and knows that honor won't win wars.  In war, people die, and eliminating those that defy him before they take up arms is the best course of action.
In Winterfell, Theon continues his attempt to be taken seriously, and continues to fail at every turn.  Each succeeding failure only serves to make him more desperate and more willing to be cruel and violent.  He knows (thinks?) that he needs to have the respect of the Iron Men in order to hold Winterfell, never once considering that an angry populace will create its own problems.  The only way he will get the respect of the Iron Men is to be cruel to those who defy him, even if it means going against all logic and sense.  The lives of Bran and Rickon Stark are extremely valuable to him if he hopes to hold Winterfell, but he says that he'll kill them if doing so is the only way to keep the loyalty of his countrymen.  For Theon, the idea of honor never enters his mind.  All he can think about his proving that he is not weak.  What he doesn't realize is that there are many kinds of weakness, and the power to take the lives of those who defy him doesn't make him strong.  Acting out of desperation, even if that means doing horrific things, underscores just how weak he truly is.
Does honor have any virtues at all?  Robb and Jon certainly think so, and it aids them to different degrees.  Robb continues to treat his prisoners well and ensures that everyone gets medical attention.  So far this season, his men have respected him much more than the commoners of Kings Landing respect Joffrey or the Iron Islanders respect Theon.  But things may quickly change.  During Jaime's escape attempt, the son of Lord Karstark, a Stark bannerman, is killed, leading the Lord to demand the right to kill Jaime.  Cat won't let him, knowing that doing so would be dishonorable (Jaime is an unarmed prionser) and that Jaime is very valuable alive.  This doesn't sit well with many of Robb's men, and could spark an uprising.  North of the Wall, Jon tries to explain the iron code of honor followed by the Night's Watch to Ygritte, who scoffs at every sentence.  To her, the rules Jon finds himself bound by are foolish and do nothing but keep him prisoner.  She extolls the virtues of freedom, of being able to choose to be with whoever you want and to choose your own leader.  Honor isn't abiding by silly codes because a king or a lord says so.  And honor isn't fighting your own kind simply because they live on the wrong side of some large Wall.  But Jon won't hear any of it.  He has lived his entire life believing that honor is one thing, and won't entertain any thought that says otherwise.
Finally, honor, or the lack thereof, nearly drowns Daenarys this week when she sees just how far some people will go to attain power for themselves, even if it means using her as a pawn.  Her presence in Qarth provided an opportunity to Xaro Xoan Daxos and Pyat Pree, who set in motion a sequence of events to put themselves at the top of the Qarth government.  Her whole life, she has been little more than a pawn; Viserys sold her to Drogo to get an army, Jorah used her as a bargaining chip to return to Westeros (although she doesn't know this and he did not act upon it once he got it), and now her dragons allowed the man she thought was looking out for her in Qarth to enact a bloody coup.  What is all of this teaching her about leadership, and how will the rest of the world fare when this woman scorned is lord and master of a trio of dangerous dragons?
Random Thoughts:
·         Tywin's scenes with Arya continue to be incredible.  The two of them need to have some kind of meetup with Roger Sterling and Sally Draper.  And in said meetup, Sally may or may not be an airbender.
·         Speaking of Tywin, his lecture about the history of Harrenhal and how the Targaryens "changed the rules" was fantastic, and another example of why "honor" is incompatible with warfare.  Attacking a fortress with dragons probably wasn't the honorable move, but damn was it effective.
·         Thirdly, Arya makes a point of reminding Tywin that Aegon I Targaryen didn't act alone; he had his two sisters with him.  In Westeros, behind every great man are very shrewd women.
·         Because the show doesn't give characters inner monologue, Theon can't reveal the truth about Bran and Rickon.  I theorized in the podcast that the final scene of the season will be a surprise reveal, unlike in the books.
·         You'd think that a group of men who regularly scout a snowy wasteland would realize that wearing black isn't the best of ideas.
·         Jaime and Brienne meet for the first time, foreshadowing one of the books' best relationships.
·         "What was the name of that bastard he fathered?"  "Brienne."  "No, that wasn't it.